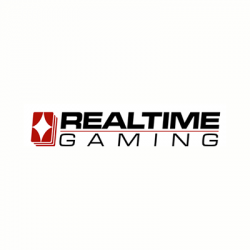 One of the oldest companies that activate in the casino software market, RTG has over a hundred games to offer, and they are for the most part available to you below. You can check out each of them, and see if they're interesting to you.  Their slots offer the usual mix of regular and progressive jackpots, of classic and modern games. They're well known especially for their Real Series.
It's an established company, very respected and available at a large number of online casinos. Their systems are tested by an independent auditor and they have a certification from TST (Technical System Testing), so we know that they're fair.
200+ games are available at casinos which use the Realtime Gaming software, so they have the variety needed to be able to support a casino on their own, though often enough other developers are bundled on the same platform as well.
US Players Accepted
One of the elements that helped with their growth over the last decade has been the fact that they still offered their games to players that are based in the United States. Most casinos that accept US players are using the RTG software, and luckily the quality of their content is very high and it's worth signing-up with them.
Where to play
Review
Play
$9,000 of free bets + 20 spins
US Players Accepted
Weekly Promotions
200% bonus first 10 deposits
Daily promotions available
US Players Allowed
Slot Reviews
Mobile and Desktop Gaming
These days, the games offered by RTG are available on a variety of platforms. If you're a mobile user, you have an increasing number of slot machines that are accessible to you, but many of the older ones will require to be downloaded. They also have their fair share of instant play available games, especially the newer ones, which I'd recommend you go for anyway.
Slot Machines
Themes & Graphics in RTG Slots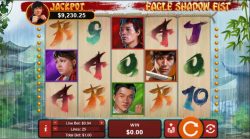 As with most developers that have this kind of history behind them, with two decades of game creation, you're not always going to be satisfied with the content you get from them. Look at their earlier slot machines, and you're going to hate the graphics if you're fussy about that sort of thing. Newer companies have an advantage in that, since their collection has only new games.
What's more relevant is how the graphics look in their latest slot machines, and there you can see that they're as good as any major developer. If you take a look at just the last 10 or so slots that they've put out, I doubt you will find even one that you'd have an issue with, graphics wise. Eagle Shadow Fist, Dragon Orb, Kung Fu Rooster, Swindle All The Way, these are a couple of recent releases of theirs, and they're all highly enjoyable. If you don't put a lot of emphasis on graphics, then dig down a bit into their collection, there are some fun titles to be found there, and some even with progressive jackpots that could make you rich.
The theme variety is very good, and the developer covers pretty much every major topic, while creating others from scratch. You get slots with adventure, Mexican parties, dragons, magic, candy, but there are also others which are unique (Swindle All The Way is a quick example, with robbery and Christmas bundled together in a single game). On top of that, they have their share of branded releases, the latest one being Eagle Shadow Fist, which is based on an older Jackie Chan movie.
Of particular importance is their Real Series, a collection of slots that have great stories as well as graphics and features. It's their most appreciated product, and one that I recommend you check out at RTG casinos.
Realtime Gaming Special Features
The special features are not repetitive and games tend to have their own mix of options to put in front of you. You might get expanding wilds, re-spins and free spins from one title, while another would offer free spins and wilds with multipliers. There is something for everyone in their collection.
RTG Progressive Jackpots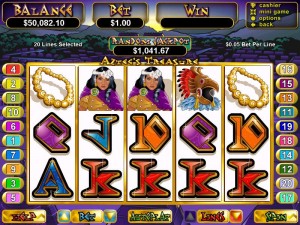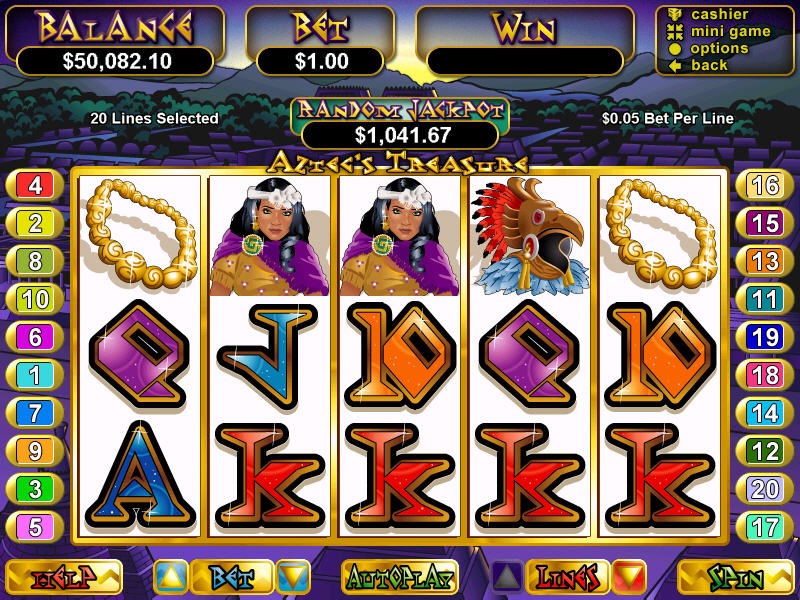 Here is one area where I've found RTG to excel at. Many of their games have progressive jackpots to offer, and some of them even pay millions of dollars to their winners. Aztec's Treasure is one of the bigger ones, and an older title of theirs, but their recent slots also incorporate these payouts quite often, though often enough it will be just in the four or five figures range. Since most of their titles offer such prizes, they have more variety in slots with progressives than pretty much any other developer.
Table Games
Since RTG is the sole provider of content for a lot of casinos, they're not just focused on slot machines. Table games include roulette, baccarat, blackjack, poker and various others, in multiple variants usually. Video poker is offered as well.

Where to play
Review
Play
$9,000 of free bets + 20 spins
US Players Accepted
Weekly Promotions
200% bonus first 10 deposits
Daily promotions available
US Players Allowed