Where to play
Review
Play
2200+ games
1900+ slot machines
Large selection of games
(1400+ titles)
Available to US players
Accepts Bitcoin
Respected Brand
$9,000 of free bets + 20 spins
US Players Accepted
Weekly Promotions
200% bonus first 10 deposits
Daily promotions available
US Players Allowed
In Coins of Egypt, the player gets some Ancient Egypt related action, a type of story that we've been told dozens of times before, if not hundreds of times by now. The game gets a pass though, as it's a release from the popular Net Entertainment, a developer that launches excellent slot machines that players love. The production value is very high in this case as well, the game featuring very detailed graphics, animations and some cool features. It has 5 reels with 20 active win lines, a common enough mix, while individual wins will bring you $30,000 at most. Though it offers wilds and small bonus games as well, the big focus is probably on the free spins, since those look most profitable.
Betting Requirements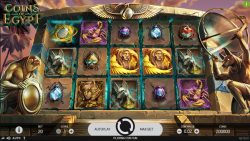 The way a lot of other slot machines will do these days, Coins of Egypt will also rely on fixed lines, 20 that will require 20 to 200 coins to be used each time the reels spin. You set up the value of those coins, between the minimum of $0.01 and a maximum of $1, and this way you decide what the bets will be worth ultimately.
You will be working with a range of $0.20 to $200, so low and high rollers alike are accommodated.
Jackpot & Big Wins in Coins of Egypt
It's not a game where you'd need to dig for too long to figure out how much a single winning combination can pay. The ideal one will have only wilds in it, paying 3,000x, with a maximum value of $30,000 being possible. Even regular symbols can pay $15,000, if you land the right ones.
Beyond the top jackpot or the regular wins that you can get, an important figure is the theoretical RTP, which NetEnt has announced at 96.97%. That's high enough that it is better than a lot of other slots released at the same time, so even though it's got that boring theme, what matters is still how well it will pay.
The volatility is a Medium one, so you get a chance at some decently sized rewards, without getting bored between winning spins.
Coins of Egypt Special Features
The game has the right mix of features, several ones being offered, some considered standard but improved with different extras.
Wilds
These are the symbols which appear to be showing a Golden Bee. They're not usable as feature symbol replacements but add them to any line that's got the rest of the required regular symbols, and they might form a winning combo together.
Despite this capability, which gives the Wild its name, the ideal situation remains the one where you get multiple wilds to appear left to right on the line, forming a combo that could even deliver the jackpot of 3,000x.
Pharaoh Coins Win
Reels 1, 2 and 3 will have coins appear on them, during regular spins. They will have values that range between 2x and 15x the round's bet. Each of those three reels gets a single coin, during each round. In order to collect the three coins and get the rewards written on them (up to 45x total bet), you need a Collect symbol on reel 5. It's the symbol that features the image of the Pharaoh sarcophagus.
Free Spins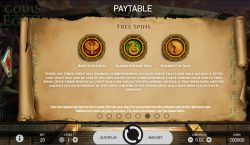 Scatter icons are allowed to appear on three reels (1, 3 & 5). If you get fewer than three, they're of no use to you, as only the full complement of scatters will trigger the free spins. There are three chests that you're trying to open up during the free spins, and each one receives at the start of the feature the value of the coins which were visible during the triggering spin.
The chests that you're trying to open will have seals on them, representing a Golden Cat, an Emerald Snake and a Ruby Eagle. The seals will also be present as symbols on reel 5. Each spin can bring these symbols and you will collect one of them if they appear. Once you've collected three seals of the same type, the chest that has it will be opened and you get the reward hidden inside. At the same time, this signals the end of the free spins, so there is no hurry to get that chest opened. Unfortunately, that's not up to you.
You can see the progress by checking out the chests underneath the reels. They have three empty sockets at the start, which get seals added ton them when they're collected.
Theme & Graphics
The only part that I found disappointing is the choice of theme. Nothing against players that love a good Ancient Egypt slot machine, but I for one can't get excited about most of them anymore, not with so many of them flooding online casinos. Still, if I had to pick one developer to create a slot machine with an Ancient Egypt theme, I'd go with NetEnt, since the odds of me enjoying the end result are much better.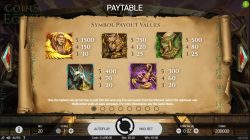 Speaking of design quality, it's definitely visible in this release. Coins of Egypt delivers impressive graphics, with a level of detail that isn't there even in some of the other NetEnt slots.
Even the symbols are a bit different, some of them showing you images of insects that are designed as jewelry pieces. That's only the low-paying part of the paytable, as the ones delivering the big payouts show gods and characters of the time, of even better quality.
Conclusion
Coins of Egypt has impressive graphics, a high average RTP, decent payouts and a mix of features that will be easy to have fun with. Based on all that, I can forgive their use of the Ancient Egypt theme.
Where to play
Review
Play
2200+ games
1900+ slot machines
Large selection of games
(1400+ titles)
Available to US players
Accepts Bitcoin
Respected Brand
$9,000 of free bets + 20 spins
US Players Accepted
Weekly Promotions
200% bonus first 10 deposits
Daily promotions available
US Players Allowed
| | |
| --- | --- |
| Developer | NetEnt |
| Volatility | Medium |
| Release date | 20.03.2018 |
| Return to Player | 96.97% |
| Reels | 5 |
| Lines/Ways to Win | 20 |
| Betting Range | $0.20 – $200 |
| Theme | Egypt, Historical, Gods, Pharaoh, Chest, Coins |
| Max Jackpot | $30,000 |
| Progressive Jackpot | No |
| Features | Wild, Free Spins, Bonus Game |